made with Tempera. Colour. Pencil. Water. Love. Passion
Prehistoric cave paintings
Details of my new painting, made with acrylic structure paste for having a stonelike structure, acrylic colour and natural ocre pigements. Motives and Inspiration are from Altamira and Chauvet cave paintings...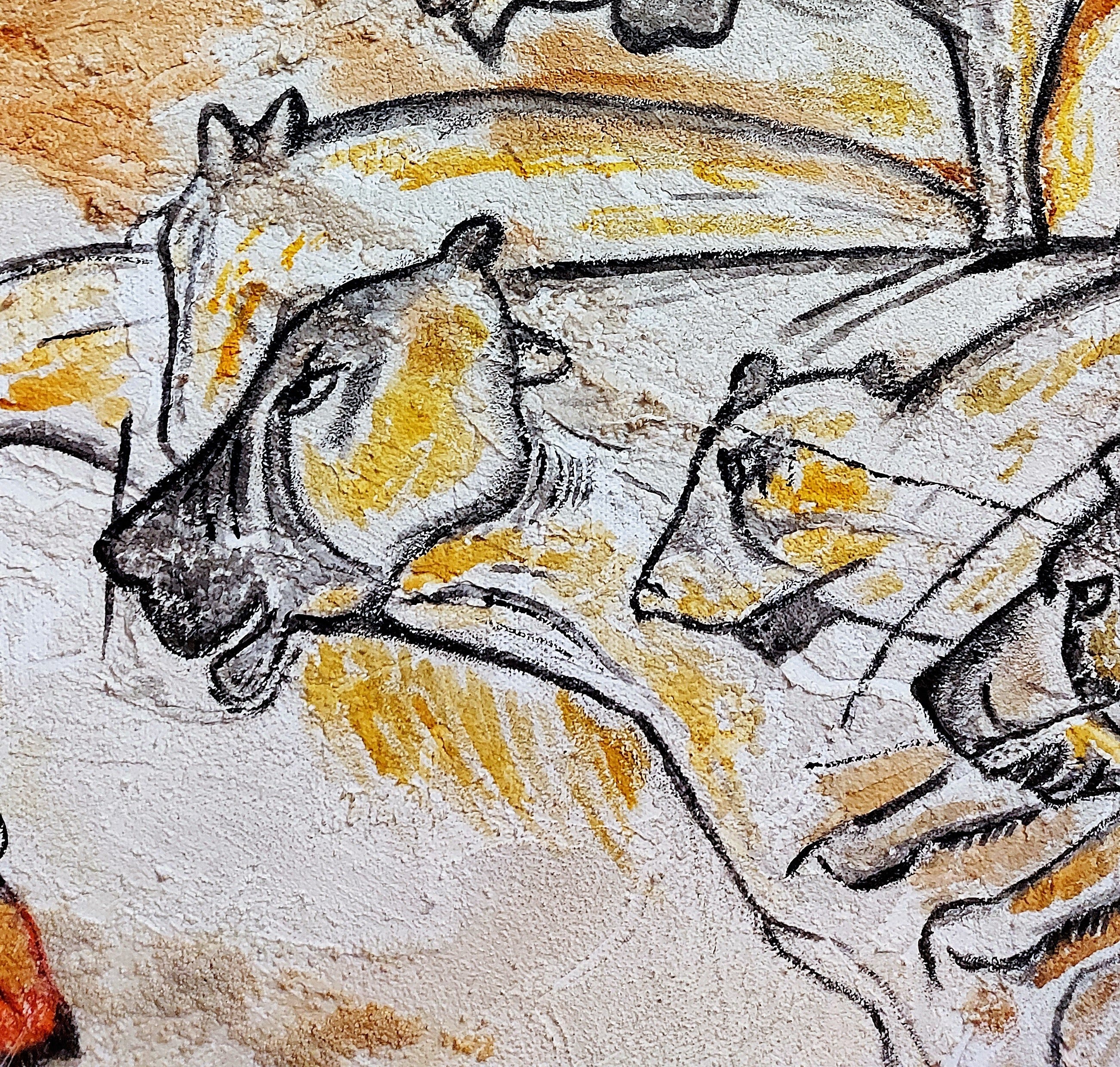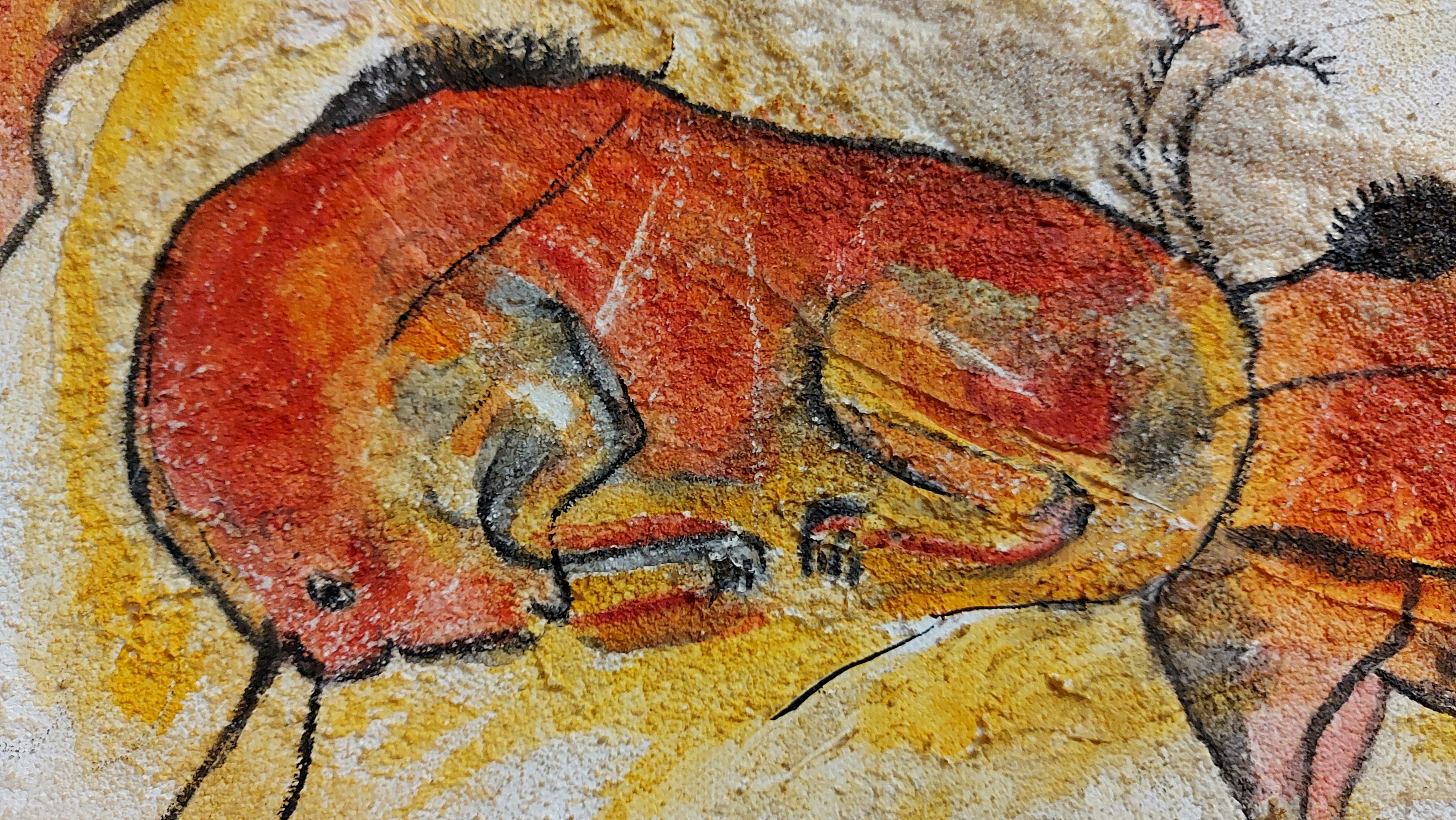 Oilpainting "Dürer Sword"
In this painting I used my dürer sword and splitted it into its parts.
Everything on this picture are parts of the sword in different perspectives.
Viking shield painted with tempera
Morgan Bible Tempera Painting I
This painting is a repainting out of the Morgan bible (Kreuzfahrerbibel).
It is painted with eggtempera in different techniques, goldenbronze pigmenttempera and ink on wooden canvas.
Size: 50 x 70 cm
SOLD
Family crest with tempera and ink for family "Lammer"
This family crest has been painted due to research about values, origin and their family tree. I also took into consideration the rules of heraldry.
It has been painted with tempera colours and ink on wooden canvas.
Family crest with tempera and ink
This family crest has been painted due to an already existing family crest. Painted with tempera colours and ink on wodden canvas.
SOLD
Coat of Arms with tempera and ink
This coat of arms is inspired by an historical illustration out of a medieval fencing manuscript.
Painted with tempera colours and ink on wooden canvas.
Morgan bible Tempera Painting II
This is another interpretation of an illustruation out of the famous Morgan bible (Kreuzfahrerbibel).
I have made it with egg Tempera, different inks and bronze pigments on wooden canvas.
I love how intense the colors are in egg tempera paintings. It is hard work to do your stain all by yourself, but it is worth the effort. It has an interesting color intenstiy and shine compared to modern stains.
Size: 50 x 70 cm
Artprints are available at FineArtAmerica
Buckler Pencildrawing
Painting for Project "Ultima Custodia"
This illustration will probably be the book cover of our publication project.
"Battle of Fulford"
I repainted the "Battle of Fulford" , original by Matthew Paris -Monk 1200 – 1259 on a Wood canvas (60 x 50 cm) in a free way, means no exact reconstruction.
The painting has been first sketched with pen, then inked and painted with egg Tempera
(the way artists used to paint in the middle ages).
The egg Tempera consists of egg yolk, water and mineral colour pigments.
Acrylic Painting for a friend whose passion is sailing
A Buckler (medieval fighting shield) painted in the ancient way.

The idea was to paint the surface of a historical medieval weapon with the same technique, shields were actally painted at these times.
The painted figures are the protagonists out of the oldest fencing manuscript, known as Royal Armouries MS I.33 (Towerfechtbuch).
My goal was to match the colours as close as possible to the original. The original was painted around 13th century.
In order to achieve this I used a primer made of chalk, a recipe with egg and mineral colour pigments (egg tempera) to create my own colours and finished it with a rosin varnish.
A Buckler painted in the way artists did it in the middle ages with a sewed ring of leather.


Finding the right Mineral Colour Pigments.
Getting the fluid yolk out of it´s sac.
Adding the Mineral Colour Pigments to create paint.
Painting on the linen surface initially prepared with a chalk primer.
The colour result clearly matches the original drawing in the Towerfechtbuch.
(Source: The Medieval Art of Swordsmanship - Jeffrey L. Forgeng)
Acrylic Paintings
Acrylic Paintings on Canvas and Paper.
Sword and Buckler Acrylic Painting
Acrylic Painting with elements from the Towerfechtbuch (Ms 1.33) and my friend with his weapons.
Rubella
Just some sketching with rubella (inspired by a painting from Leonardo da Vinci)
Pencil Drawings
Pencil Drawings of different Weapons on paper prepared with black tea.
Charcoal pencil Drawing
Not HEMA related., but I just love HR Giger.
This painting is inspired by one of his "Concept Art of Alien Series".